Our Philosophy
Our philosophy is also our mission. Simply, "There is no bond for which we don't have an appetite. If it is bondable, we will offer terms." We NEVER DECLINE A BOND. We work diligently (and quickly) to provide you terms, no matter how ugly the obligation looks. We are certain that you will not find another surety agency that is politer, more attentive or more aggressive in finding a way to help obtain the bonding that you require.
Our Company
Surety One, Inc., a domestic corporation domiciled in Puerto Rico, is owned by Janus Assurance Re and the Poindexter group of companies. Established in 1995, Surety One's principal and underwriters are licensed surety (P/C) producers in all fifty states, Puerto Rico, U.S. Virgin Islands and the Dominican Republic. Yes, we have been to the surety schools, seminars, and certification programs but more important than all of that paper to hang on the wall, is the result of our efforts to get close to surety companies that really want to write bonds. We are VERY proud of our ability to offer a market for even the most difficult of performance bond placements.
Nuestra Clientela
Dado que somos una compañía puertorriqueña, tiene sentido que ofrecemos nuestra asesoría en español, pero lo que nosotros sabemos (que ignoran muchos afianzadoras) es que nuestra gente latinoamericana es una parte sumamente importante de la sociedad norteamericana. NUNCA, jamas descartaremos el hecho de que ustedes también necesitan y merecen nuestro apoyo para sus proyectos. Todo nuestro personal es hispanoparlante y esperando con ansia asesorarles.
Surety One, Inc.

'Surety One' is a surety bond underwriter, brokerage and MGA licensed in all fifty states, Puerto Rico, U.S. Virgin Islands, and Dominican Republic. Surety One specializes in surety bonds (commercial and contract), fidelity bonds, and financial guarantee. Unique among surety brokers, Surety One offers serveral non-standard (bad credit) programs as well as the availability and support of 7-day-a-week underwriting staff.
Reclamation Bonds.com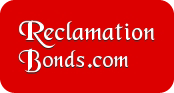 Reclamation bonds required by the Bureau of Land Management (BLM) and various state environmental agencies are long term surety obligations. Generally, these surety bonds cannot be canceled, adequate performance can be highly subjective, and bond losses can be large. These and other onerous provisions require the input of underwriters with knowledge and experience in the reclamation field. You may trust 'Surety One' to carefully review your application, provide expert feedback, and offer fair bond terms for these difficult surety needs.
ERISA-Bonds.com

'Surety One' is a specialist in surety and fidelity bond underwriting. We are one of the largest producers of ERISA fidelity bonds in the nation. Our knowledge, extensive experience with ERISA bonds, and our broad underwriting authorities allow us to fulfill your fidelity bond need immediately. We bond plans with non-qualifying assets, ESOPs, labor union and multi-employer plans. NO ONE is turned away!
Poindexter Surety Services

A member of The Poindexter Surety Group of Companies, is focused exclusively on the commercial bail surety market within the United States, Puerto Rico, U.S. Virgin Islands, and U.S. Territories. Poindexter Surety has been serving the underwriting needs of professional bail agents across the United States since 1995. Our goal is to provide superlative support and service to our bail agencies. We strive to be the independent bail agent's partner of choice, offering innovative, industry-leading solutions and our industry-specific knowlege to each bail agent. We diligently collaborate with each agent to build his or her respective book of business, then support his or her ongoing profitablity.
Janus Assurance Re

Janus is a captive insurance company originally chartered in Bermuda then redomiciled in the Dominican Republic, providing surety and financial guarantee bond insurance and reinsurance. Janus is a wholly owned subsidiary of the Poindexter Surety Group of companies. Dominican DGII ID #RNC 1-30-73669-3, and in compliance with 2013 "requisitos para solvencia" (capital/surplus requirements) for unlimited national insurers.
Member, Captive Insurance Companies Assocition (CICA)
PROFESSIONAL MEMBERSHIPS